Various uses of tents
23-05-2020
Gaoshan tent products are diverse, and also have the following aspects.
Hotel tent
Gaoshan hotel tents can be seamlessly set up in the woods, beside the streams, on the cliffs, and among the flowers. They are assistants for creating unique competitiveness in scenic spots, hotels, and resorts. In the hotel tent, the traditional hotel facilities are all available, and you can enjoy the comfortable natural scenery.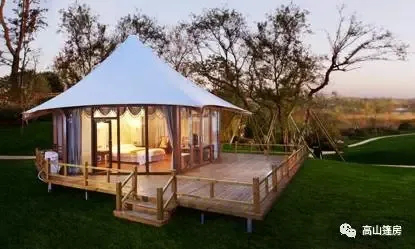 Peach -shaped tent
Gaoshan peach-shaped tents not only have a high appearance value, but also use a tensioning system to improve the flatness of the tarpaulin and have strong wind and snow resistance characteristics. For outdoor projects with harsh operating environments and strict customer requirements, Gaoshan Peach Shaped tents are a good choice.
Slide tent
Gaoshan slide tent, combining the tent with the track, the tent is no longer need to be dismantled and reinstalled in close movement, but is moved through the track as a whole. At present, the tent of 2000 square meters can be moved 100 meters as a whole. The application field of housing has been greatly expanded.

Air Dome
The air dome building uses high-strength membrane material as the main material, and uses the principle of air pressure support in the sealed space to create a large-span beam-free and column-free building space. It can also be matched with modular peripheral systems, such as advanced intelligent modules such as lighting systems, air conditioning systems, APP alarm systems, air filtration systems, and thermal insulation systems. Gaoshan Air Dome spans up to 110 meters, and its length is not limited. It can withstand 12-level winds and 50 mm of snow.