Marquee And Pagoda Mixed Tent
Gaoshan Tent Manufacture

Shenyang

25 days

100,000㎡/month
Marquee And Pagoda Mixed Tent can simultaneously satisfy you have two kinds of tents very unique shape. Compatible with diverse structures. Marquee and Pagoda combination tent is usually spliced and mixed with a polygonal tent on the basis of a party tent, a wedding tent, and a movable tent.

1)Elegant appearance suitable for vacation.
2) Easy to assemble and demount.
3)Environment-friendly and can reduce the operating cost.
4)Convenient to transport and storage. 
5) High Security.
Buy Marquee And Pagoda Mixed Tent, Cheap arcum marquee tent, stock pagoda tent Brands
Product Description
Diversified structure tent with a variety of structures, making the tent more beautiful. Marquee combination tent can form a special shape combination tent, which is more chic and is often used in gorgeous outdoor activities. Because the appearance is beautiful, the construction is not restricted by the venue, and the movement is free.
Main Frame
Structure

Material: Hard Pressed Extruded Aluminum Alloy 6061-T6

Cover material

Density: 650g/sqm, 750g/sqm, 850g/sqm

Material: oth sides lacquered PVC coated fabric

Features: UV Resistant, Waterproof, Fire Retardant B1

Sidewall

PVC Wall, Glass Wall, ABS Wall, Sandwich Wall

Wind Load

80km/h - 120km/h

Snow Load

10cm Thick Floating Snow (snow can't stay if use big degree roof pitch design)

Temperature
Index

-30 Degree Celsius ~ +70 Degree Celsius

Life Time

Aluminium frame more than 15 years. PVC fabric 5-10years

Certification

SGS, ISO 9001:2015, IAF, NAC

Application

Colored PVC Roof and Sidewall, Clear PVC Window Sidewalls, Glass Windows, Glass Door Units, Flooring System, Fixed Way, Rain Gutter between two tents, etc.
Product Details
Marquee mixed tent deeply loved by domestic and foreign customers. Marquee combination tent can be used alone or in combination with other types of large tents. The combined tents have a short construction period, easy to assemble and disassemble, and are suitable for high-end gorgeous outdoor activities.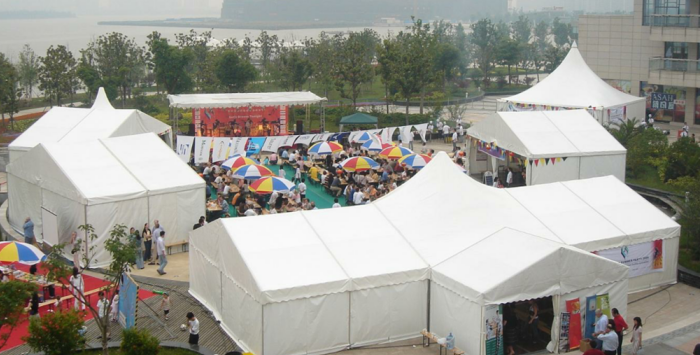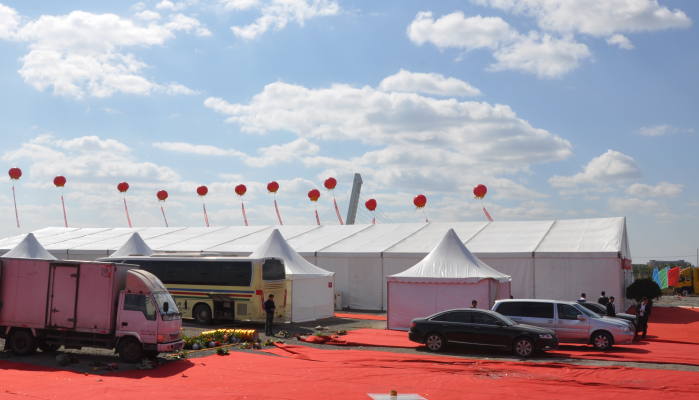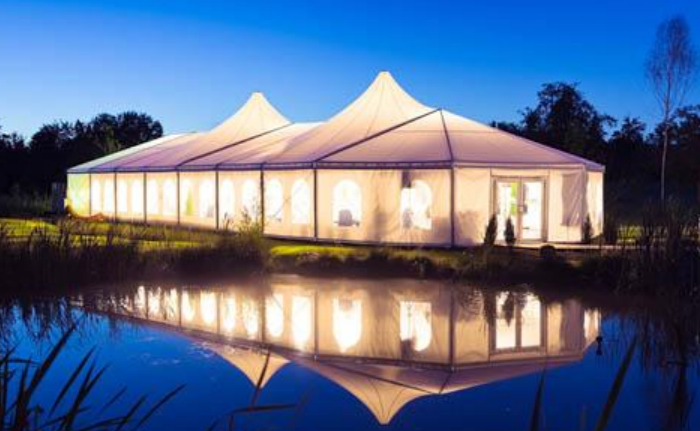 Fixed way
1) Expansion screws: The ground can be damaged;such as concrete floor over 20cm
2) Steel nails: The ground can be damaged;such as soft land and the lawn
3) Weight plate: The ground can not be damaged

Packaging Details
1. Aluminum Ally frame packed in Bubble paper;
2. Hardware/accessories packed in solid carton box;

3. Roof and sidewall in professional PVC carry bag;

4.Customized packing

Delivery time: 25days
Loading Port: Dalian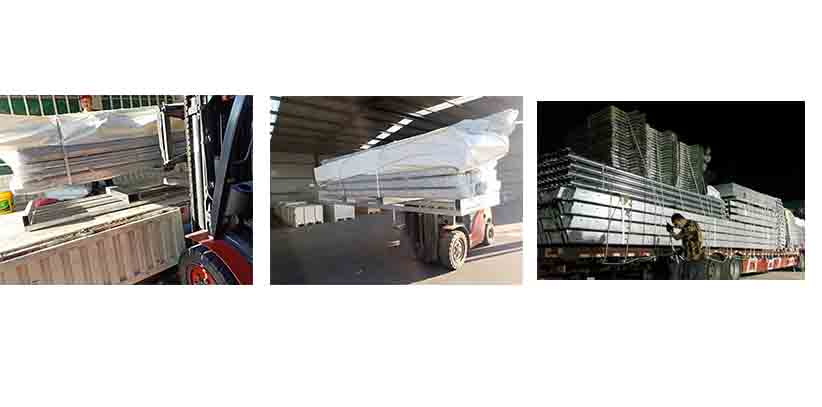 Company Introduce
Gaoshan Tent Manufacture (Shenyang)Co., Ltd. established in 2003, which is main engaging in the design, production, sales and rental of high-quality aluminum structure tent systems. Gaoshan has 60,000㎡ production area and over 200 employees. The production capacity of Gaoshan tent is 100,000㎡/month and has 250,000㎡ stocks.