Outdoor Large Sphere Tent
Gaoshan Tent Manufacture

Shenyang

7-25 days

100,000 m²/month
Spherical tent small diameter is 6 meters, large diameter up to 40 meters, the use of a spherical tent shell structure, mesh shell is a curved space grid structure, both the structure and structure of the characteristics of thin shell, material saving, but the mechanical performance is quite good, high safety factor, and appearance beautiful, rich in change.
With its unique design concept, novel structure, safety and environmental protection charm, the spherical awning house to attract the public eye, for your special activities to create corresponding solutions, widely used in scenic spots, resort hotels, celebrations, etc.Its unique and beautiful shape and varied design style of tarpaulin make this product the choice of high-end users who advocate high quality and highlight the brand charm.
Spherical canopy features: high strength seamless steel tube, solid structure, can withstand wind and snow load.The spherical tarpaulin adopts PVC flame retardant tarpaulin of 750-850g /㎡, which is durable.
Product Description
Geodesic dome tent is an attractive and special kind of tent. With it's different color and various sizes, half sphere tent is widely used as outdoor resort tent, wedding, party tent, expo show tent, sport event tent, concert tent, addvertising tent.

Main Frame
Structure

Dome Tent Diameter: 6m, 8m, 9m, 10m, 15m, 20m, 25m, 30m, 35m, 40m, 50m.

Frame Diameter: φ26mm to 48mm,

Material: hot dip galvanized stell pipe

Roof material

Density: 650g/sqm, 750g/sqm, 850g/sqm

Material: Both sides lacquered PVC coated fabric

Features: UV resistant, waterproof, fire retardant B1

Wind Load

Usual 100km/h to 120km/h

Snow Load

10cm Thickness Fresh Snow

Temperature Index

-30 Degree Celsius to ~ +70 Degree Celsius

Life Time

Frame more than 15 years. PVC fabric 5-10 years.

Certification

SGS, ISO 9001:2015, IAF, NAC

Optional Accessories

Colored PVC Roof, Clear PVC Window, Screen Cloth Window, Number of Doors, Glass Door Units, Porch, Flooring System, Fixed Way, etc.
Product Details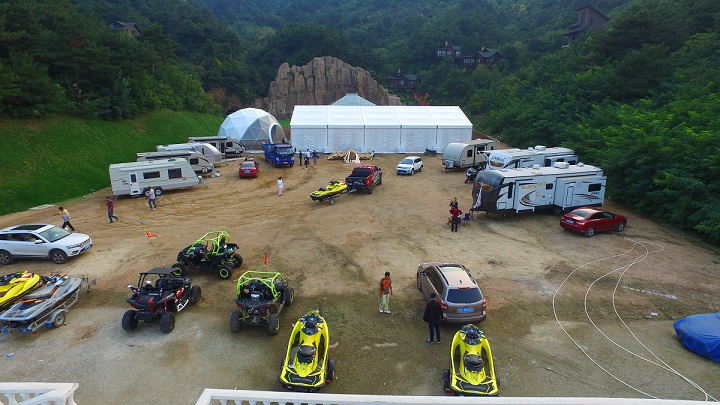 The biggest geodesic dome tent is 2000㎡,think about it!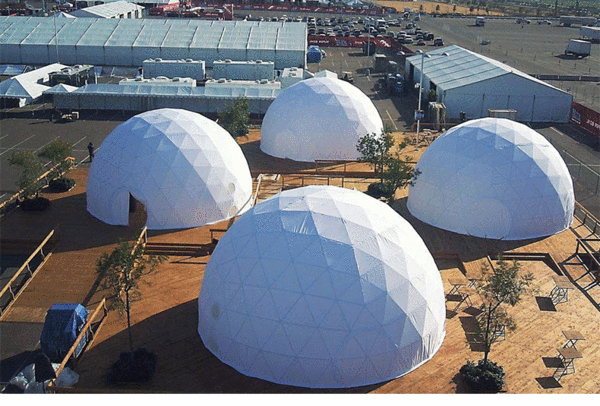 Fixed Way
1) Expansion screws: The ground can be damaged, such as concrete floor over 20cm.
2) Steel nails: The ground can be damaged, such as soft land and lawn.
3) Weight plate: The ground can't be damaged.
Company Introduction
Gaoshan Tent Manufacture (Shenyang) Co., Ltd. was established in 2003. We specializing in design, production, sales and rental of high-quality aluminum structure tent systems. With a 60,000㎡ production area and over 200 employees, Gaoshan's tent production capacity is 100,000㎡/month. We also has 250,000㎡ stocks for rent and emergency order.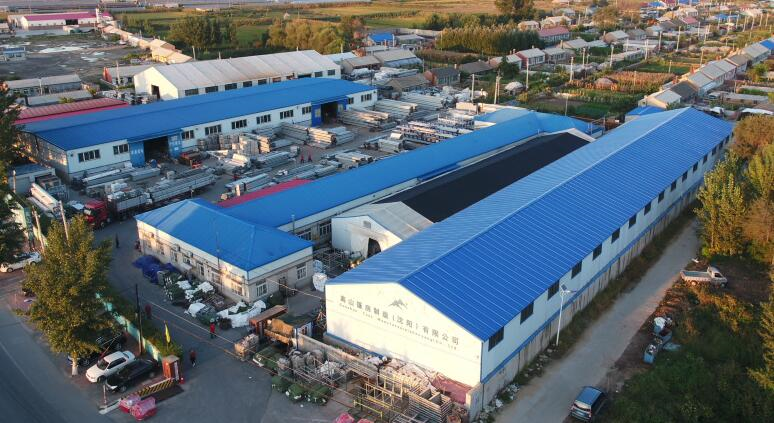 Packaging & Delivery

1. Aluminum alloy frame packed in stretch PP film or Bubble film.
2. Steel parts and accessories packed PP jumbo bag.
3. Roof and sidewall in PP bag or canvas bag.
4. Customized packing.
Delivery Time: 7-25 days after deposite received.
Loading Port: Dalian, China