Wedding ceremony tent
Gaoshan Tent

Shenyang

25days

1000,000㎡/mouth
A lot of people have very specific ideas about what the perfect wedding should be, and it's up to us to turn those ideas into reality. We can adjust the structure of the canopy according to your preference, and the complete canopy facilities can meet every need of the client. We have a complete range of specifications, equipment and accessories. The accumulation of experience makes our services more and more perfect, the quality of products increasingly improved, as your partner, we believe that only a perfect project is a successful project.
The specifications of the wedding tent can be estimated according to the number of people and internal support elements, various shapes, European wedding tent has a variety of, the most important is that the waterproof cloth has sunscreen function. Choose a wedding tent and easily experience different outdoor weddings .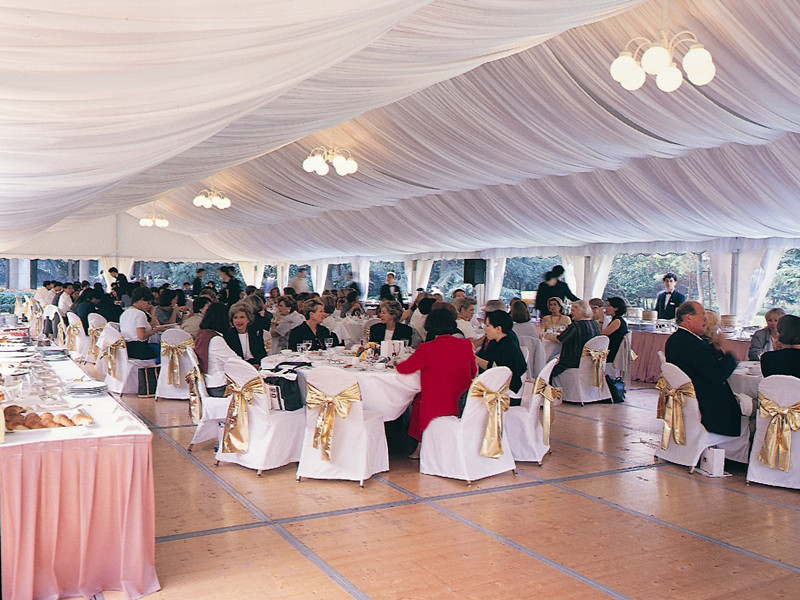 Nowadays, under the influence of Western culture, many young couples are gradually accepting the outdoor wedding and the white wedding tent, which is what we call the European wedding greenhouse. European wedding hothouses offer more possibilities than traditional hotel weddings .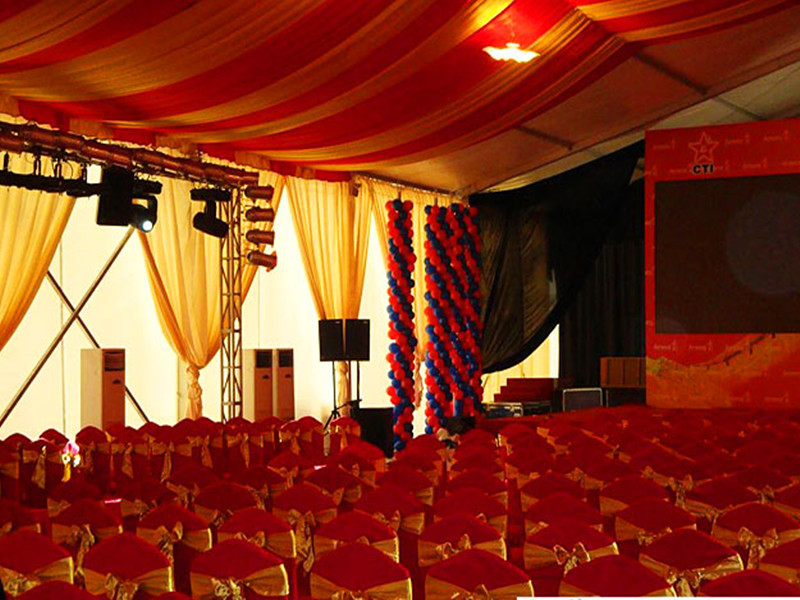 Romantic and beautiful wedding tent
European wedding tent is a popular wedding tent, it can meet everyone's beautiful wedding imagination. To stand out from the crowd of traditional weddings, there has to be something different. European wedding tent, can let you really feel the close contact with nature, and the stars of the sky, make your wedding become unforgettable memories.
Company Introduction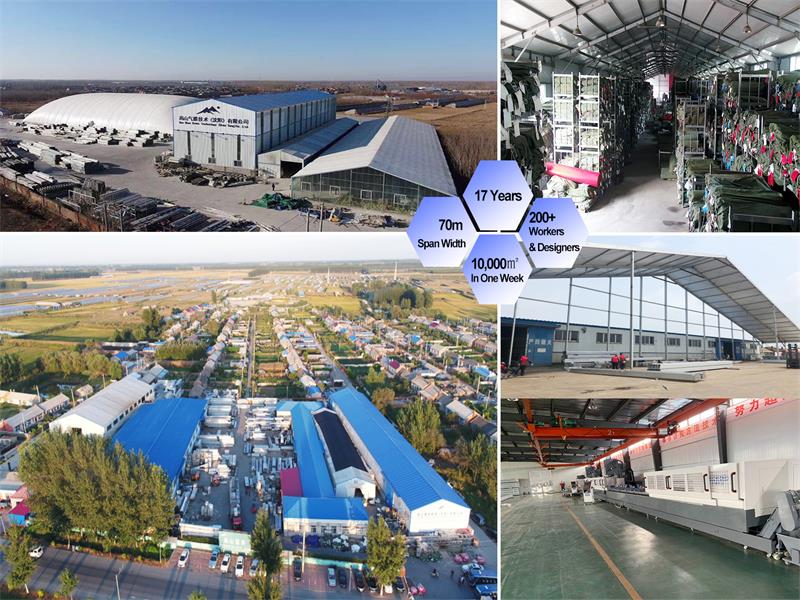 Gaoshan Tent Manufacture (Shenyang) CO., LTD established in 2003, which is main engaging in the design, manufacture, sales and rental of high-quality aluminum structure tent systems. In the north of China, we are one of the largest tents and air dome production bases. As a 17 years tents manufacturer, we have a professional design team. Now, we are the only company in China that has developed the marquee tent with 70m span width.
Our company has an area of production base 60,000㎡, over 200 employees, 100,000㎡monthly production capacity and 250,000㎡ inventory. Moreover, Gaoshan company has imported a lot of advanced equipment from Germany and other countries, such as fabric washing machine, high frequency cutting machines, color printers and so on. We sincerely invite you to visit our company.
Certifications (click the picture to know more)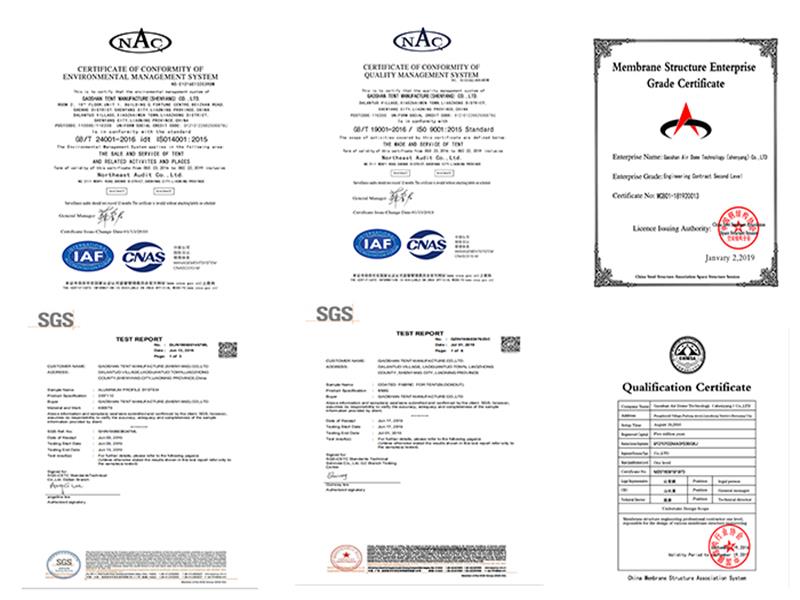 Gaoshan had passed ISO 9001-2008 standard quality management system certification. And we obtained the national AAA level credit enterprise certification. Our factory equipment comes from domestic and foreign manufacturers. Because of the reliable product quality and advanced technology, we have accumulated many customers and satisfied them in the past 17 years. The warranty period is within 1 year after the customer receive the goods. Any question about service, contact us.
Package and Delivery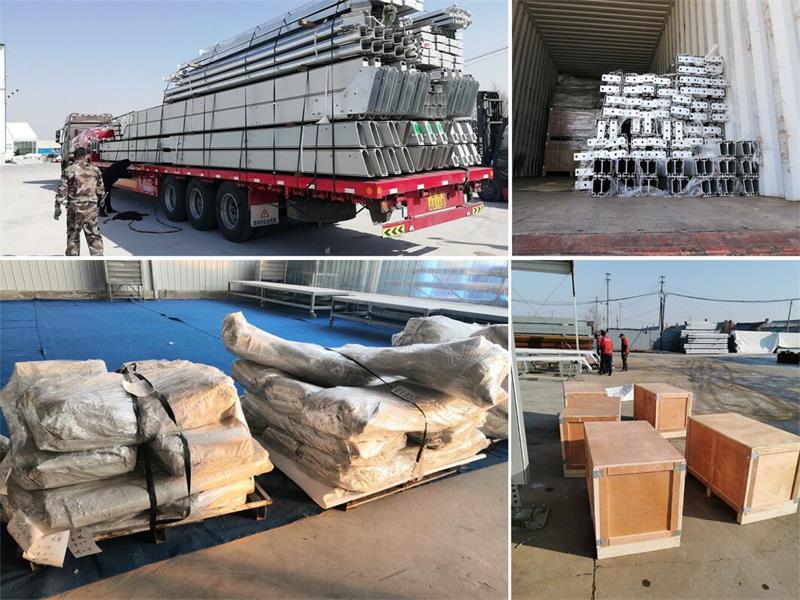 1.Aluminum Ally frame packed in Bubble paper
2. Hardware/accessories packed in solid carton box;
3. Roof and sidewall in professional PVC carry bag;
4. Customized packing
Exhibitions Show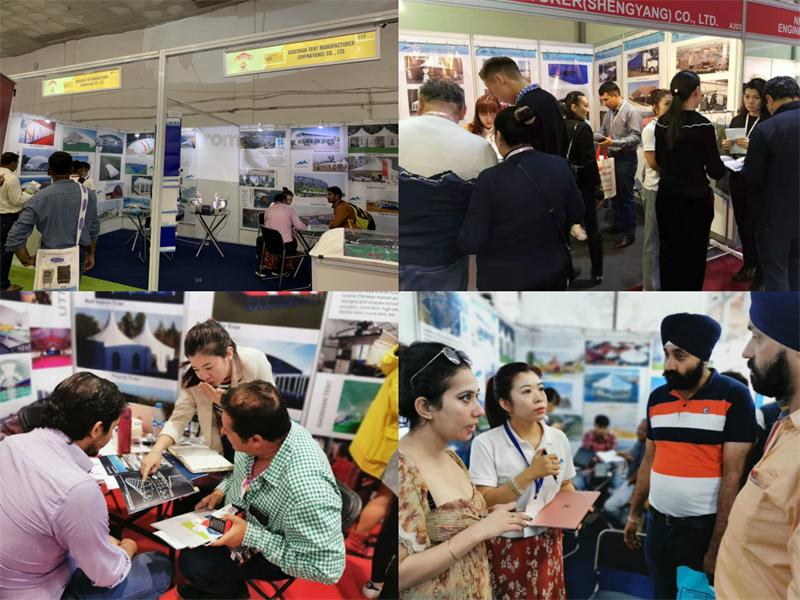 Gaoshan is committed to expanding overseas markets. In the past year, Gaoshan has participated in 10 international exhibitions covering nearly 100 countries on six continents. It is expected to cooperate with customers from all over the world.
v