Transparent Multi Side Mixed Tent
Gaoshan Tent Manufacture

Shenyang

25 days

100,000㎡ monthly
The clear span of polygon tent has a variety of categories,including hexagon,ocagon and decagon,dodecagonal Tent,high eak multi side, Hexadecagon Tent etc,The Multi side mixed tent top of the height can reach 18m,with a maximum diameter of 50m to meet customers needs

FEATURE:
1) Elegant appearance.
2) Several Polygon tents can be putted side by side, to fit any shape of ground.
3) No interior poles structure. 100% use of interior space.
4) Convenient to transport and storage.
5) No need for professional foundation and approval.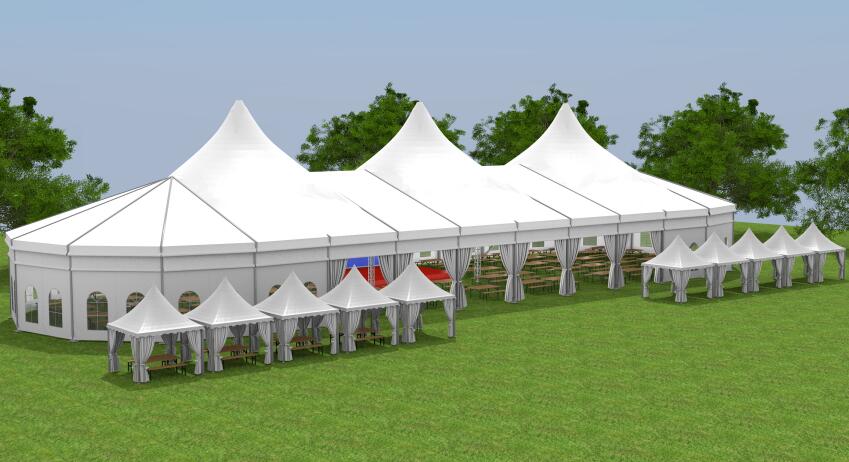 Transparent Multi Side Mixed Tent

Product Description
The top roof of the multi-side tent has a diamond roof and high peak roof design.Clear span from 6m to 32m,The mixed tent can be combined with the A shaped tent or pagoda tent and has a striking shape design,Widely used in outdoor auto show hotels, restaurants, parties, weddings, press conferences, competitions and other activities.

Main Frame
Structure

Size: Span width 15m,eave height 4m,Top height 6.4m

Material: Hard Pressed Extruded Aluminum Alloy 6061-T6& 6082-T6

Cover material

Density:650g/sqm, 750g/sqm, 850g/sqm

Sidewall

Material: Both sides lacquered PVC coated fabric

Features: UV Resistant, Waterproof, Fire Retardant B1

PVC Wall, Glass Wall, ABS Wall, Sandwich Wall

Wind Load

80km/h - 120km/h

Snow Load

10cm Thick Floating Snow

Temperature
Index

-30 Degree Celsius to +70 Degree Celsius

Life Time

Aluminum frame more than 15 Years.PVC fabric 5-10 years

Certification

SGS,ISO 9001:2015,IAF.NAC
Product Details
The Multi side mixed tent span width 28m and 30m. The standard side height is 4m. The mixed tent profile is high strength aluminum alloy (6061/T6).The cover is made of PVC fabric,The mixed multi tent is divided into two types: Shade tarpaulin and semi-shade tarpaulin. The weight of the cover is 650g,750g and 850g.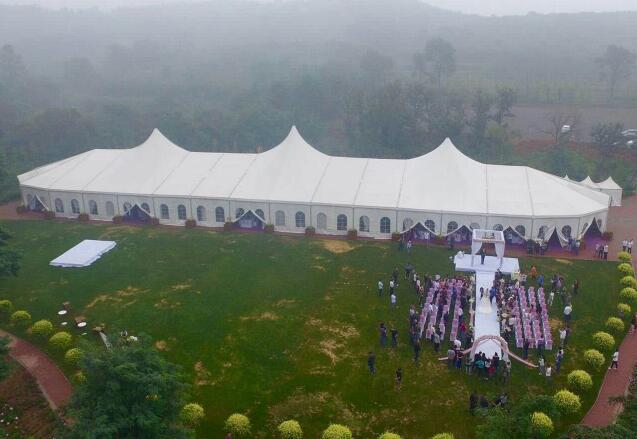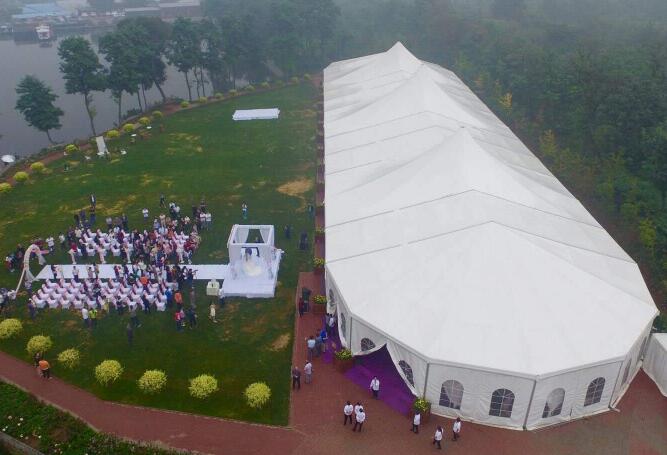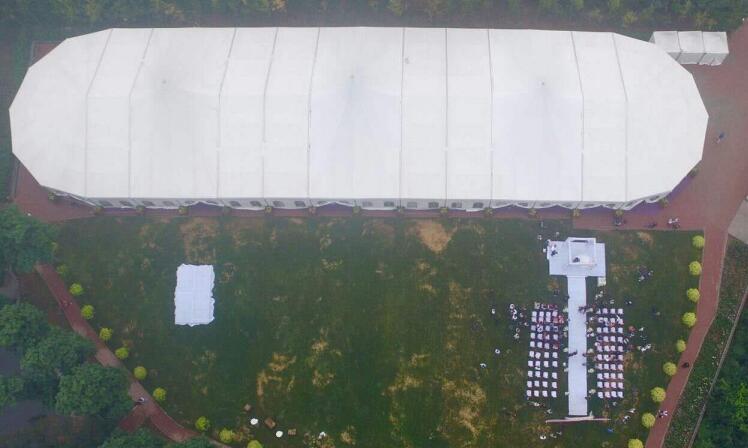 Fixed way
1) Expansion screws: For concrete floor like cement

2) Steel nails: For soft land and gross land
3) Weight plate: For floor cannot be damaged
4) The bearing platform

Packaging Details
1. Aluminum Ally frame packed in Bubble paper
2. Hardware/accessories packed in solid carton box;
3. Roof and sidewall in professional PVC carry bag;
4. Customized packing
Delivery time: 7-25days

Loading Port: Dalian

Company Introduction
Gaoshan Tent Manufacture (Shenyang) Co., Ltd. was established in 2003. We specializing in design, production, sales and rental of high-quality aluminum structure tent systems. With a 60,000㎡ production area and over 200 employees, Gaoshan's tent production capacity is 100,000㎡/month. We also has 250,000㎡ stocks for rent and emergency order.Our main products include aluminum tents like A shapes tent, high peak tent, dome tent, curve tent, polygon tent, cube tent, container tent, double decker tent, curve tent. We also produce steel structure, and air membrane dome.