Outdoor hotel restaurant tent
Advantages of tents:
1. Tent have strong flexibility, low requirements on the ground, and can be repeatedly disassembled and used. The special assembly structure of the tent only needs to be built on site, which saves a lot of time for construction and helps to put into use quickly. Moreover, the cost of early construction and late maintenance is lower than that of traditional buildings
2. The shanty can reach a span of 70 meters, a height of 10 meters, and a length of 3 meters or 5 meters for the interval of infinite extension. No internal column structure, expand space utilization rate.
3. Compared with traditional fixed buildings, tent have more diversified shapes. In addition to the marquee tent, there are peach, polygon, spherical, pointed and other shapes, the shape is more beautiful, more in line with the contemporary aesthetic.
Gaoshan Tent

Shenyang

25days

1000,000㎡/mouth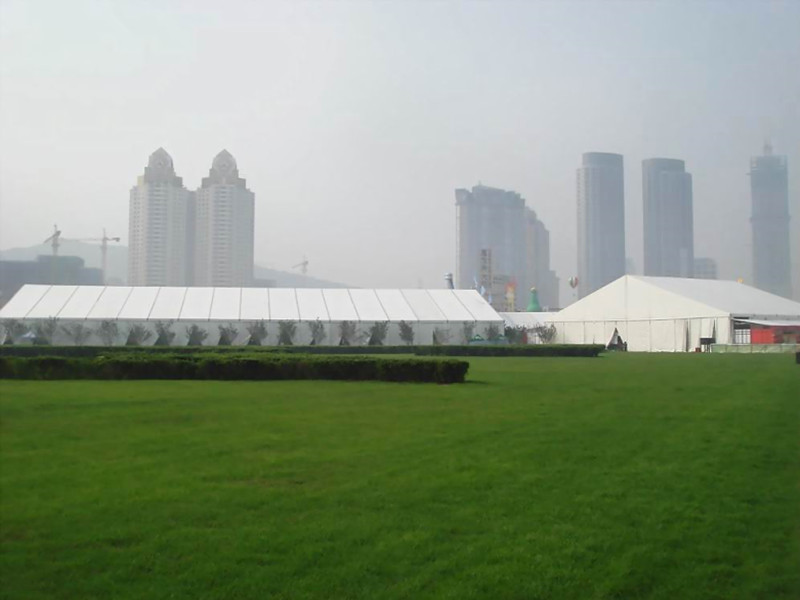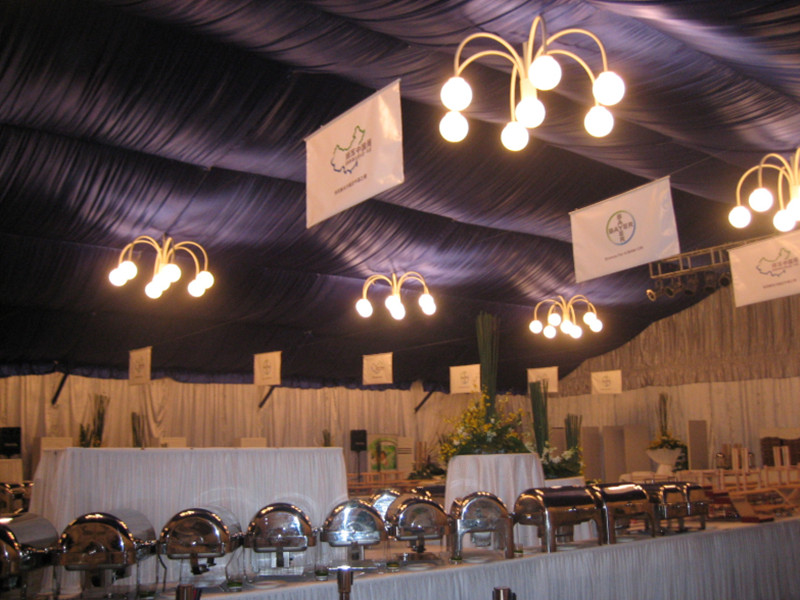 At present, no matter rent or buy, tent houses are very cost-effective. It has been widely used in a variety of outdoor large-scale activities and banquets. Alpine sports canopies also adhere to strict quality and safety standards, with quality service to bring people a more environmentally friendly multi-purpose sports venues..
Product Specification

Main Frame
Structure

Clear-span Width: From 3m to 70m, length is no limit

Material: Hard Pressed Extruded Aluminum Alloy 6061-T6& 6082-T6

Cover material

Density: 650g/sqm, 750g/sqm, 850g/sqm

Material: Both sides lacquered PVC coated fabric

Features: UV Resistant, Waterproof, Fire RetardantB1

Sidewall

PVC Wall, Glass Wall, ABS Wall, Sandwich Wall

Wind Load

80km/h - 120km/h

Snow Load

10cm Thickness Floating Snow

Temperature
Index

-30 Degree Celsius to +70 Degree Celsius

Life Time

Aluminum frame more than 15 Years. PVC fabric 5-10 years

Certification

SGS,ISO 9001:2008,IAF.NAC
Application: party tent / pavilion tent / outdoor tent / marquee tent / event tent / exhibition tent / wedding tent / pagoda tent/ gazebo tent / military tent / fair tent / celebration tents / tents for storage / warehouses tent / temporary tents / emergency tent / banquet tents / huge tents / European tent / large tents / Relief tent / continental tent / racing tents / tent floor / tent liner / tent furniture / tent nail / tent waterspout / tent fence / tent ABS wall / tent toilet / tent partition / tent weight plate / tent light /PVC tent/big tent/catering tent/event tent /marquee
3D Drawings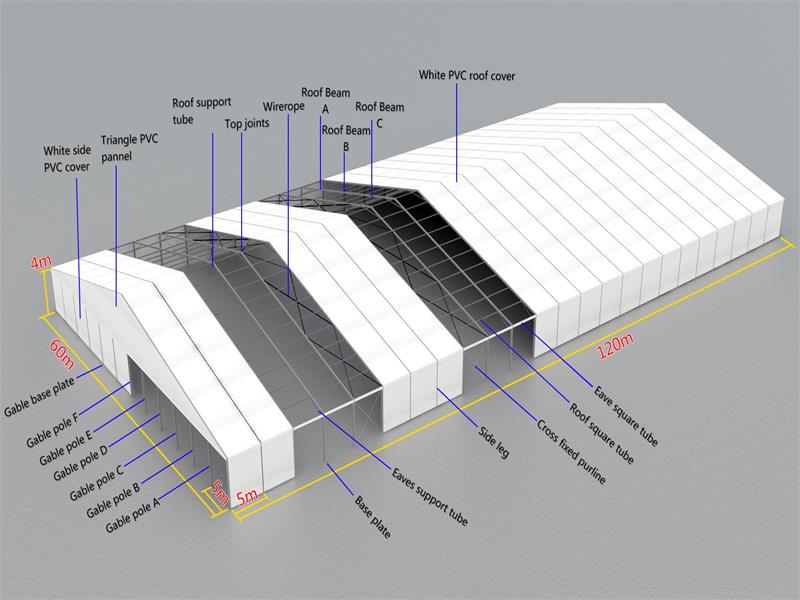 80% customers also check below products:(please click the picture to know more)
These two products are dome tents and hanger tents, which is also popular choice for party events and exhibition activities. Just like multi-side polygon tents, they all have unique shapes and large space.
Company Introduction
Gaoshan Tent Manufacture (Shenyang) CO., LTD established in 2003, which is main engaging in the design, manufacture, sales and rental of high-quality aluminum structure tent systems. In the north of China, we are one of the largest tents and air dome production bases. As a 17 years tents manufacturer, we have a professional design team. Now, we are the only company in China that has developed the marquee tent with 70m span width.
Our company has an area of production base 60,000㎡, over 200 employees, 100,000㎡monthly production capacity and 250,000㎡ inventory. Moreover, Gaoshan company has imported a lot of advanced equipment from Germany and other countries, such as fabric washing machine, high frequency cutting machines, color printers and so on. We sincerely invite you to visit our company.
Certifications (click the picture to know more)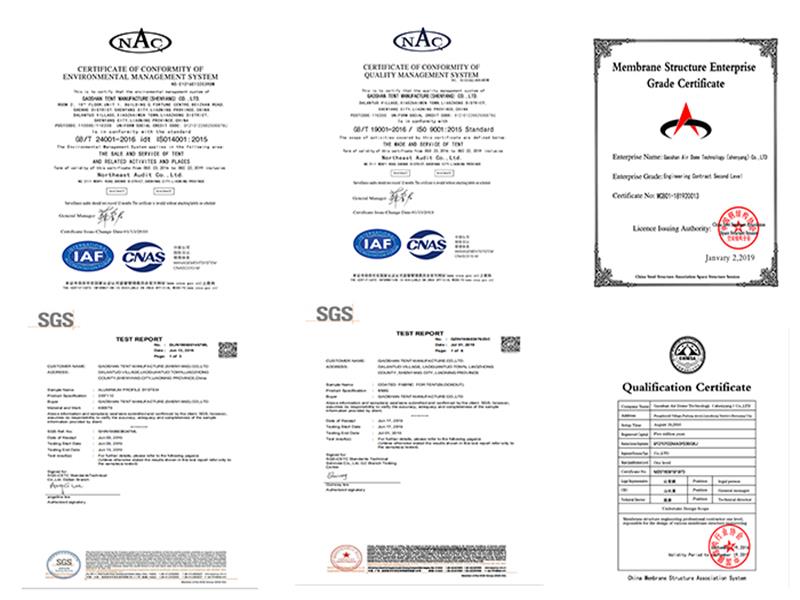 Gaoshan had passed ISO 9001-2008 standard quality management system certification. And we obtained the national AAA level credit enterprise certification. Our factory equipment comes from domestic and foreign manufacturers. Because of the reliable product quality and advanced technology, we have accumulated many customers and satisfied them in the past 17 years. The warranty period is within 1 year after the customer receive the goods. Any question about service, contact us.
Package and Delivery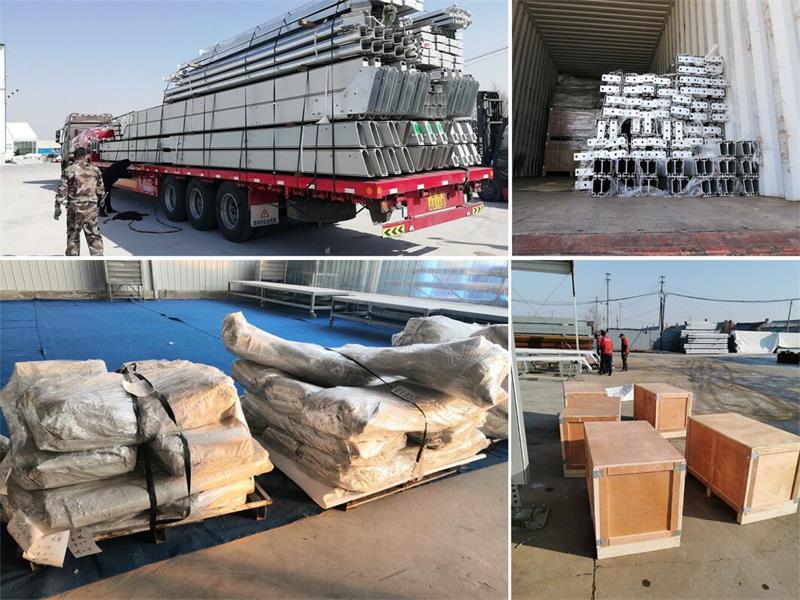 1. Aluminum Ally frame packed in Bubble paper
2. Hardware/accessories packed in solid carton box;
3. Roof and sidewall in professional PVC carry bag;
4. Customized packing
Exhibitions Show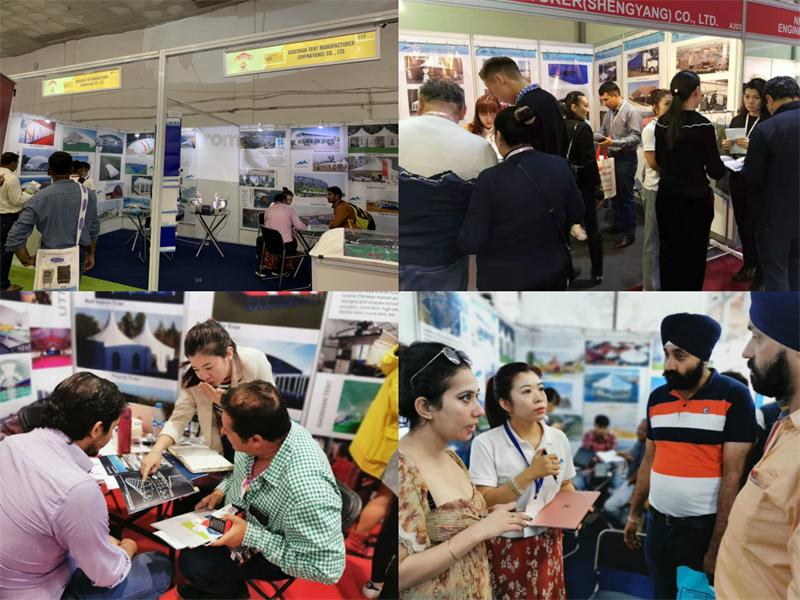 Gaoshan is committed to expanding overseas markets. In the past year, Gaoshan has participated in 10 international exhibitions covering nearly 100 countries on six continents. It is expected to cooperate with customers from all over the world.
Get the latest price? We'll respond as soon as possible(within 12 hours)