Small warehouse arcum tent
Gaoshan Tent Manufacture

Shenyang

25 days

100,000 m²/month
Advantage:
Small warehouse arc tents can be used as warehouses and factories
The curved storage tent can also be moved at any time. If you want to change the venue or size, you can change it at any time, which is very convenient
The cost of the curved warehouse tent is very low, and the construction time is shorter than that of the traditional warehouse, which is very suitable.
Arcum tent look very special in appearance, it is like a rainbow house appearance beautiful, circular arc roof lines beautiful, delicate arc top line design.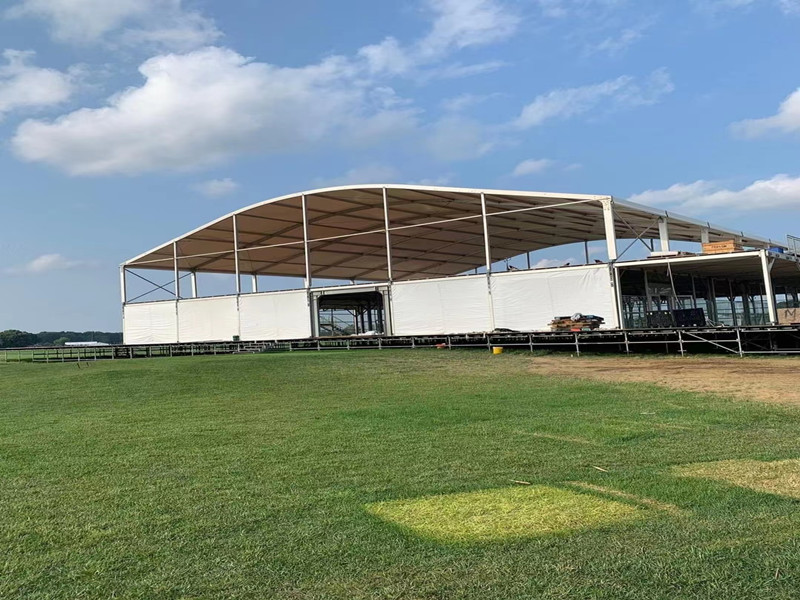 Arcum tent suitable for outdoor exhibitions, auto shows, warehouses, gyms, events and weddings, arc awning is a powerful and well designed awning on the market, giving us flexibility and available space more stylish.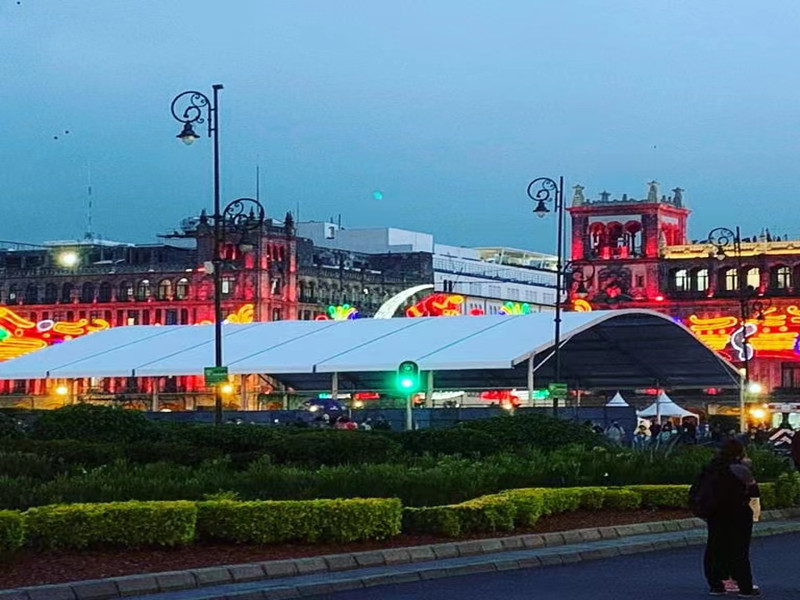 Arcum tent is a unique shape, he is based on the herring-shaped tent, reasonable use of traditional architectural design elements, the roof oblique beam pre-bending to reach the arc effect, arc tent design is durable, wind speed up to 100 km/h, quick and convenient disassembly, small storage volume.
Product Description

The arc-shaped tent of the small warehouse can be used as a warehouse and a factory. Its service life is 15 to 20 years and will not rust.
The curved storage tent can be built on grass or concrete, as long as your site is flat, it can be built sturdily.
Product Specification
Main Frame

Structure

Span Width: From 3m to 60m

Aluminum size: 100mm x 48mm x 2.7mm, 150mm x 120mm x 3mm, 203mm x 112mm x 4.5mm,250mm x 120mm x 4.0mm,300mm x 120mm x 5.0mm

Material: Hard Pressed Extruded Aluminum Alloy 6061-T6/6082-T6

Roof material

Density: 650g/㎡ - 850g/㎡

Material: Both sides lacquered PVC coated fabric

Features: UV resistant, waterproof, fire retardant B1

Sidewall

PVC White or Clear Wall, Glass Wall, ABS Wall

Wind Load

20km/h

Snow Load

10cm Thick Floating Snow

Temperature Index

-30 Degree Celsius to +70 Degree Celsius

Life Time

Frame more than 15 years. PVC fabric 5-10 years.

Certification

SGS, ISO 9001:2015, IAF, NAC

Optional Accessories

Color of PVC Roof and Sidewall, Clear PVC Window Sidewalls, Glass Windows, Glass Door Units, Flooring System, Fixed Way, Rain Gutter between two tents, etc.
Arc-shaped warehouse tents are very popular in Europe. If your site is large enough, you can build multiple arc-shaped warehouse tents side by side, so that your site will be very unique.
The curved small tent is also very easy to build, just like the herringbone, but it is more unique than the herringbone.
3D Drawing
80% customers also check below products:(please click the picture to know more)
These two products are dome tents and hanger tents, which is also popular choice for party events and exhibition activities. Just like multi-side polygon tents, they all have unique shapes and large space.
Company Introduction
Gaoshan Tent Manufacture (Shenyang) CO., LTD established in 2003, which is main engaging in the design, manufacture, sales and rental of high-quality aluminum structure tent systems. In the north of China, we are one of the largest tents and air dome production bases. As a 17 years tents manufacturer, we have a professional design team. Now, we are the only company in China that has developed the marquee tent with 70m span width.
Our company has an area of production base 60,000㎡, over 200 employees, 100,000㎡monthly production capacity and 250,000㎡ inventory. Moreover, Gaoshan company has imported a lot of advanced equipment from Germany and other countries, such as fabric washing machine, high frequency cutting machines, color printers and so on. We sincerely invite you to visit our company.
Certifications (please click the picture to know more)
Gaoshan had passed ISO 9001-2008 standard quality management system certification. And we obtained the national AAA level credit enterprise certification. Our factory equipment comes from domestic and foreign manufacturers. Because of the reliable product quality and advanced technology, we have accumulated many customers and satisfied them in the past 17 years. The warranty period is within 1 year after the customer receive the goods. Any question about service, contact us.
Package and Delivery
1. Aluminum Ally frame packed in Bubble paper
2. Hardware/accessories packed in solid carton box;
3. Roof and sidewall in professional PVC carry bag;
4. Customized packing
Exhibitions Show
Gaoshan is committed to expanding overseas markets. In the past year, Gaoshan has participated in 10 international exhibitions covering nearly 100 countries on six continents. It is expected to cooperate with customers from all over the world.